Looking for Carport Designs, look no further
Carports are one of the most practical and inexpensive features you can add to your property. Apart from protecting your vehicle, these types of outdoor additions have the potential to increase the value of your home – but only when designed properly. To make the most of your space, it's important to come up with a carport design that's both functional and stylish.
If you are struggling to find suitable carport design ideas, Additions Building can help. Whether you need enough space for the car, caravan and boat all in one, or something a little more compact, we build carports in a variety of shapes, sizes and materials.
Roofing Options
The right roof can make or break your carport. The right roof can make or break your carport. To ensure you choose the best carport roof design, consider factors like the type of weather you experience and your stylistic preferences. Some common carport design options are:
• Flat roof (Skillion) – Flat carports also known as Skillion carports are a very popular style of carport because they blend in with any style of home or garden. A flat roof can be attached to any home with a fall for water run off. Flat roof carports are great if you love a classic. design
• Gable roof – With 2 sloping sides that meet at  a triangular point, gable roof carports are both versatile and weather resistant. While gable roofs are slightly more complex to install, they are perfect for any gable ended home.
• Flyover roof – Flyover carports are designed to create the effect of a raised ceiling. This type of roofing provides plenty of clearance and airflow. Flyover carports are perfect if you are looking for height to house a 4WD, boat or caravan. They also allow extra light to come through if you are putting your carport over windows.
•Hip Roof – Can be attached or free standing and on some houses can complement the style of home better than a gable. Hip roof designs have a high roofline giving a spacious look and feel to any carport.
Choosing a style of roofing can be tricky, but Additions Building can help you decide on one that meets your needs perfectly.
Materials
Using materials that complement your home and style is an essential step in designing a carport.
If you don't know where to start when it comes to deciding which roofing material to use for your carport there are really only three options that you should consider
-Vline which has a shiny fat service underneath and reflects a good amount of light. It is a high tensile colorbond steel.
-Insulated has a ceiling like finish. It comes in two profiles, corrugated or ribbed. It has a polystyrene core to keep you cool in summer and warm in winter.
-Corrugated carports are perfect if you have a visible corrugated house roof and want to match the style.
Privacy Screens
To keep your vehicle as safe as possible, privacy screens offer a standard of protection as well as added privacy.  Our aluminium screens can  give your outdoor space a more enclosed feel. Our screens are designed to blend in with carports of all shapes and sizes and come in a range of colours.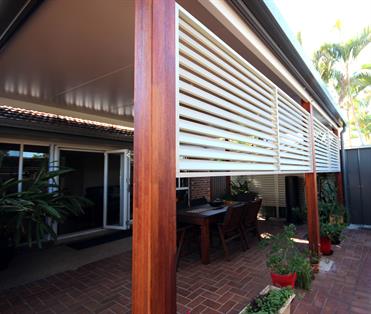 Get in Contact
Have we inspired you to design your very own custom carport yet? To get started, contact Additions Building today.
https://www.additions.com.au/wp-content/uploads/2020/01/Carport5.jpg
400
600
ydsdevadditions
https://www.additions.com.au/wp-content/uploads/2022/10/logo.png
ydsdevadditions
2020-01-24 05:02:07
2023-01-27 09:00:14
Carport Designs