Choosing the design, style and materials for your patio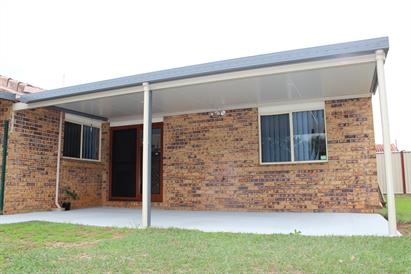 You think the hardest task is over, you have decided you want a patio and now you're going to get one. But don't be fooled, there are more tackling decisions to come like, which materials are you going to use, what style are you trying to achieve, what design is going to best suit your home and who are you going to get to build it? Well I am here to answer all of these questions for you.
At Additions Building Company we work with two types of roof sheeting, insulated and single skin. There are benefits to both styles but what it ultimately comes down to is personal preference and how much you are hoping to spend.
Insulated – Insulated roof sheeting comes in two different styles, a ribbed profile and a corrugated profile. I recommend choosing a profile and a colour that suits your existing house roof. Insulated roofing keeps your patio are cool and minimises any noise from rain or storms. The insulation will not just benefit your patio area but will also benefit your house by cooling down the area in which it is attached. I find this is great for people who have a living area that may get belted by the sun.
Insulated roof sheets also span a greater distance therefor minimising the amount of posts needed and allowing more room to entertain. These roof sheets also allow for concealed electrical work meaning you wont see any messy cables for lights and fans.
V-Line Single Skin – V-line single skin roofing is a cost effective way to add a stylish patio roof to your home. It has a high gloss finish giving it a modern appearance.
Single Skin roof sheets come in 2 different thicknesses allowing for excellent spanning capabilities. There are also 20 colours to choose from, so selecting a colour that matches your existing house won't be a problem.
Style
When it comes to picking a patio you really need to decide on a style you like. Do you like an earthy feel bringing natural elements into your space and home or do you like more of a clean, crisp feel. If you have natural timbers in and around your home or enjoy the outdoors then I always recommend incorporating timber into your patio. Timber beams and posts can really set a patio off and give it that wow factor. If timber does not suit the style of your home, you can always opt for steel beams and posts. Steel beams and posts can make your patio seem more modern and contemporary giving your patio a feeling of elegance.
Design
The design you decide on usually will depend on what best suits your home and your needs. Patios can be designed in a gable style, skillion style, fly over or free standing. When deciding on a design it is always best to talk to a roofing expert to work out the best patio style for you. Contact our team on (07)3396 3884 or view our patio gallery here for ideas for your home.
Choosing a Builder
Often this can be the hardest part. My advice to clients looking for a roofing expert is to look at their client reviews. Ask for the last three client phone numbers of recent work and find out from the client if they were easy to communicate with and whether they were happy with the work. Don't always go for the cheapest quote as the cheapest quote can sometimes mean a cheap job or an unfinished job. Ask lots of questions like, is my stormwater being connected for this price? Will a certifier come out and give me a final certificate? Often clients can go with a builder without realising they were only doing half the work. Always check their QBCC Licence before signing a contract. If you have any questions phone QBCC. Make sure you can communicate easily with the salesperson and ask if they are a builder themselves. If the salesperson is a builder it generally means they know what they are talking about, they understand the building codes and they are more likely to add any extra touches to make your patio great.
-Gordon Contact us today for an obligation free quote (07) 3396 388
https://www.additions.com.au/wp-content/uploads/2021/03/Insulated-Patio_.jpg
873
1310
ydsdevadditions
https://www.additions.com.au/wp-content/uploads/2022/10/logo.png
ydsdevadditions
2020-01-24 04:59:55
2023-01-27 09:01:56
Choosing the design, style and materials for your patio