Exciting New Product – Aluminium Wood Grain Screens
Gordon and the Additions Building Company team are excited to announce that we are expanding into a new area of the business.
We will now be working with one of the global leaders in modular aluminium products, Knotwood.
Additions Building Company can now offer our clients a high durability, low maintenance product for wood grain privacy screens, slats, louvres, gates, shutters and more while maintaining the natural beauty of timber.
Screens are becoming a popular addition to patios, carports and decks due to their stylish look and practicality.
About Knotwood
Knotwood is designed, engineered and tested for strength and durability. We can guarantee that Knowoods's high quality will last for years to come because they have close control over the extrusion, powder coating and sublimation; all of which are produced in Australia. Knotwood is an Australian owned company.
Why choose aluminium for your privacy screens over timber?
Choosing aluminium over timber is an easy choice when you think about the work involved in maintaining timber screens to keep them looking new all year round. Aluminium screens are easier to clean than timber; they can withstand harsh environmental conditions such as extreme UV exposure, salt spray and heavy pollution. Aluminium is also corrosion resistant, strong, lightweight and long lasting, which means you never have to worry about replacing them.
Aluminium privacy screens, slats and louvres cost less than timber screens and are easier to maintain. There is no sanding sanding, oiling, staining or painting involved to keep them looking their best and no oil marks or stains to clean when it rains.
Another great feature of aluminium is that all screens, slats and louvres have a concealed fixing system which hides unsightly screws, rivets and nails which cannot be hidden when building a timber screen.
Choosing aluminium means your screens on your patio look like a new addition everyday.
What colours are there?
All Knotwood colours have been tested to withstand the most extreme environments providing a durable alternative to timber. There are over 26 timber finishes to choose from with the most popular colours being Bush Cherry, Iron Bark, Jarrah, Kwila, Merbau and Western Red Cedar.
Our team have a wide range of colour samples for you to compare and choose from.
Contact Additions Building Company on 3396 3884 for a quote and full range of colour samples.
Why build a screen on your patio, carport or deck?
Adding screens, slats, louvres, or shutters to your patio, carport or deck is a great way to add an element of privacy to your home from passing traffic or neighbours.
Screens are also a great way to provide protection from the elements like the morning and afternoon sun, rain and wind making your outdoor area a more relaxing and practical space to spend time in.
Because we are experts in design, our Additions Building Company designers will create a plan that matches your project and best suits your needs.
Contact Additions Building Company on 3396 3884 to speak to one of our designers.
Here is a screen we recently completed at Macgregor in Western Red Cedar.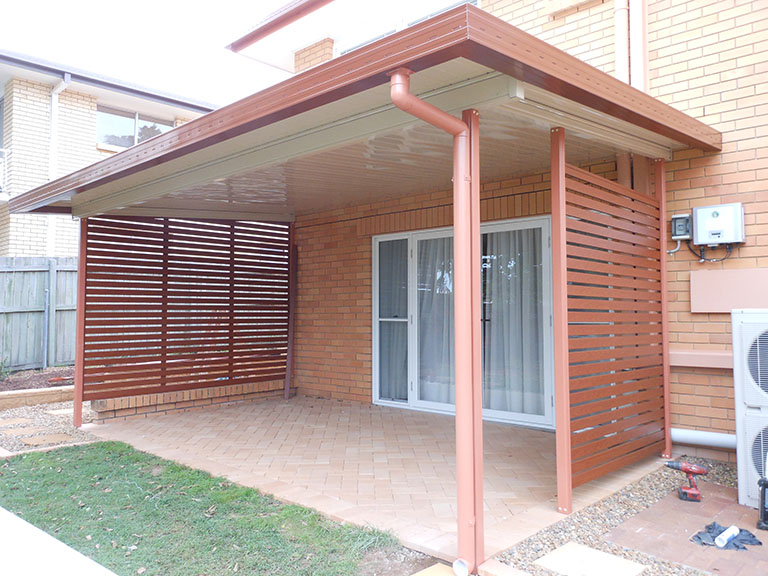 https://www.additions.com.au/wp-content/uploads/2020/10/Patio-Screens.jpg
1310
1310
ydsdevadditions
https://www.additions.com.au/wp-content/uploads/2022/10/logo.png
ydsdevadditions
2020-01-24 04:58:05
2023-01-27 09:05:15
Exciting New Product – Aluminium Wood Grain Screens